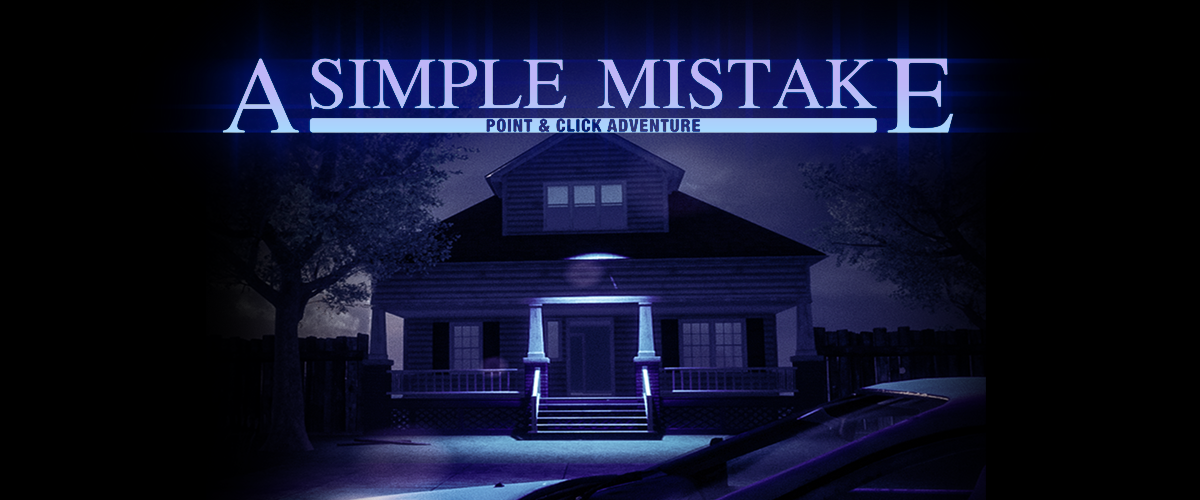 A Simple Mistake: First Person Graphic Adventure
A downloadable game for Windows
A Simple Mistake
STORY

It is a cold wintry night. You are driving on the deserted road towards the familiar hills of Westlake Creek and it isn't far until you will be home.
But then…BANG and a sound of grinding metal! A sudden jolt and you notice smoke is pouring from the hood of your car. You need to call for help.
You look around and notice a large mansion house down a gated path. Lights are on so someone must be home. You are thankfully not alone out here.
You decide to see if whoever lives there can help. But have you just made a simple mistake?
ABOUT
Take on the challenge of a new graphic adventure puzzle. Use your puzzle solving skills to explore an ancient old building. A home to an elaborate architect that has a passion for puzzles, riddles and secret passageways.
Inspired by classic first person point and click graphic adventures from the PC. Point and click your way through the old house room by room trying to make your way to a place where you can call for help.
What puzzle secrets will you discover, will you ever manage to make that telephone call and escape?
FEATURES
Captivating 3d graphic adventure.
Immersive sounds and music.
Lots of brain taxing adventure puzzles, riddles and objects to collect and use.
Mysterious hidden secret pathways to explore and get lost down.
Lots of mystery inventory items to collect and combine.
HINTS & TIPS
If you need a hint or clue while playing A Simple Mistake then please reach out over email or social media (contact links can be found on my website) and I will be more than happy to help you.
SMALL PRINT
A Simple Mistake was created from the imagination of a solo indie developer.
"I am always excited to hear people playing my games and their experience along the way. Adventure gaming is my passion and your feedback helps my games get better."
A Simple Mistake is compatible with all devices and has been designed to be as resource efficient as possible to allow play on many different devices. With that said, if you do run into any difficulties please email so I can provide updates that help everyone enjoy the adventure.
Purchase
In order to download this game you must purchase it at or above the minimum price of $1.99 USD. You will get access to the following files:
Comments
Log in with itch.io to leave a comment.
Purchased! Looks and sounds very intriguing! I'll give it a try this evening. :)